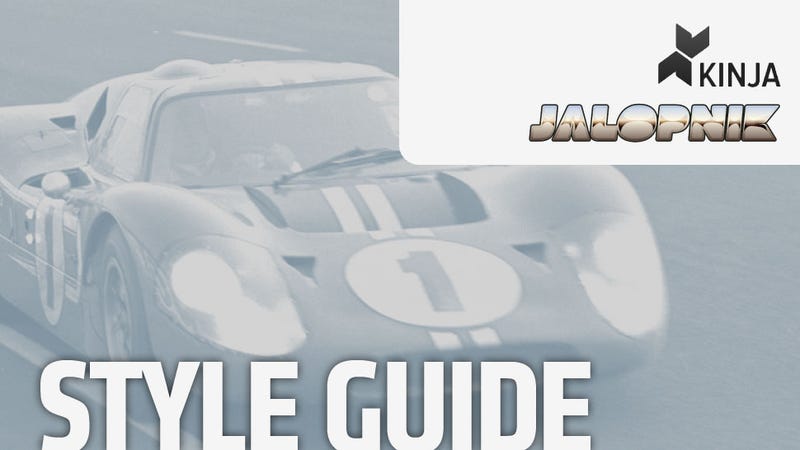 The redesign of Jalopnik to the Kinja platform demands a revamp of the current Jalopnik stylebook. We have identified three primary ID parameters for the redesigned site, based on the Kinja aesthetic:
• Simplicity
• Modernity
• Race car
The first two are inherent to the new Kinja look and feel. To achieve the third, Jalopnik will use racing livery motifs as the main inspiration for additional design vocabulary. The livery-influenced elements will be heavily simplified, and utilize a negative-space, "knocked out" approach.
Image taglines should use one of these three methods, ideally. Editorial and stylistic concerns may warrant something entirely different, but in situations where you just don't care, we may as well be consistent:
1. One line of text in Klavika CH Bold Condensed TF, in the background color, breaking the lower edge of the image by 1-2 pixel rows. Drop shadow with 0 pixels of offset, adjust size and intensity for image.
2. For multiple line taglines, size is varied per line to force text into a neat block, no ragged edges. Each line has an independent but uniform size. Position and drop shadow intensity may vary to improve legibility and composition, though the offset is always 0.
3. Alternately, the new lower identification stripe may be used as well. Tagline space may be more limited, and this is slightly more work-intensive.
Editor will have final say as to which is used, and if a nonstandard variant is warranted.
Sample of feature identification tab over an image. The racing stripe/gumball theme is employed, and the tab itself appears to be knocked  out of the image itself, by being filled in with f5f5f5 color, same as the background. A drop shadow is used to insure legibility regardless of the brightness of the background image.

 Here's PNG files for our more common recurring columns. More to come!